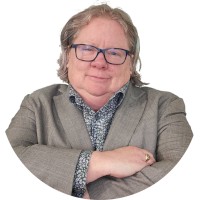 Pronouns: They/Them
Colleen grew up on James Island, graduating from Bishop England and the College of Charleston.  After seven years working and consulting for Blackbaud (a local software company), Colleen earned their law degree at the University of North Carolina School of Law (Chapel Hill) in 2002 and was admitted to the South Carolina Bar the same year. Colleen and wife Nichols live in West Ashley, with lots of time spent in Park Circle.
Colleen's legal career has primarily focused on Family Court matters in Charleston, Dorchester, and Berkeley Counties.  In 2007, they were certified as a Family Court mediator.  They have been honored numerous times for their legal work including as Best Family Law Attorney from Charleston City Paper, Lowcountry Parent Mom's Choice Award, and Top 10 Attorney Award by National Academy of Family Law Attorneys.
As a mother of a 20something who has lived for a decade with parents in separate homes, Colleen understand the importance of setting up a new family dynamic for children to thrive when separation and divorce are imminent.
Colleen served on Charleston County Council from 2005 to 2016, focusing on quality of life issues.  They have been recognized for their contributions to the community by League of Women Voters, Forty under 40, SC Equality, The Westies, Best Council Member by City Paper, and Trident Literacy Association.
Colleen is also a civil rights advocate, including having fought for marriage equality and parent equality. Colleen was president of the Alliance for Full Acceptance and remains a Board Member, chair of AFFA Action, as well as a member of the National LGBT Bar Family Law Institute. Colleen is also active in Democratic politics, serving as an officer of the South Carolina Democratic Party.
Colleen and Nichols attend St. Stephens Episcopal Church in downtown Charleston, where Colleen serves on the vestry and Mission Committee, as well as chancellor.
Colleen enjoys boating the local creeks and rivers.  They read every new mystery thriller by John Sandford, Daniel Silva, and others as soon as they come out.  The office aquariums help relax all who visit our office but also remind them of great annual scuba trips with their adult child.